Are you ready to take your modeling career to the next level? 
We're thrilled to announce an exclusive opportunity that you won't want to miss – a Model Portfolio Shooting in the stunning city of Cape Town! 
- MODEL DOES OWN STYLING & MUA
​​​​​​​
- STYLING included
​​​​​​​
- MAKE-UP & HAIR included
- STYLING included
​​​​​​​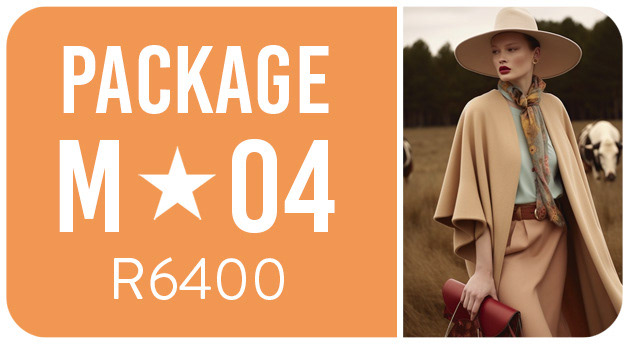 ​​​​​​​
- MAKE-UP & HAIR included
Inyoni Location Farm group photoshoot
Minimum Participants: 7 models, DURATION: 8 hours
- 3 UNIQUE LOOKS PER MODEL
- 6 RETOUCHED IMAGES PER MODEL
- Transfer from Cape Town included
Thank you for your message!
We specialize in crafting impeccable portfolios that showcase the true essence and versatility of a model tailored specifically for casting and model agencies.
Crafting Distinctive Portfolios
We understand the importance of a portfolio that speaks volumes about an individual's unique charm, charisma, and adaptability. 
Our team of skilled professionals works diligently to capture the essence of each model, creating portfolios that stand out in a competitive industry.
We believe in a personalized approach, recognizing that each model possesses their own style and strengths. 
Our process involves collaborating closely with models and agencies to ensure the portfolio reflects their personality and potential, while aligning seamlessly with the agency's vision.
We take pride in uncovering the hidden potential within every model we work with.
Through meticulous attention to detail and an artistic eye, we create portfolios that not only meet industry standards but exceed expectations, amplifying a model's presence within the agency.
Expertise:
Years of experience in the industry, backed by a team of seasoned professionals.
Tailored Creations:
Each portfolio is uniquely crafted to highlight the individuality of the model.
Collaborative Process:
We involve models and agencies throughout, ensuring alignment with their vision.
Build a stellar portfolio:
A strong portfolio is the key to getting noticed in the competitive world of modeling. With our professional team, you'll create a diverse set of stunning images that truly reflect your unique style and versatility.
Work with the best:
Our handpicked team of hair & makeup artists and stylists are among the industry's finest. They will transform your look, ensuring you look and feel your best for every shot.
Industry exposure:
Showcase your talent to industry professionals and agencies. 
Hair & makeup artists:
Our talented team of hair & makeup artists will work their magic, ensuring you look flawless in every frame.
Stylists:
Our professional stylists will curate stunning outfits and looks, adding depth and dimension to your portfolio.
How to reserve your spot:
Don't miss this incredible chance to boost your modeling career. To secure your spot at this exclusive Model Portfolio Test Shoot in Cape Town, simply email us at here with your name and contact details. Or just use the form at the end of this site.